Monday, September 17, 2012. Today's topics:
Samba authentication changing to CLASSE credentials
The LEPP samba server (\\samba\user etc...) will change from LNSNTCAD authentication to CLASSE authentication by the end of October. We will provide a specific change over date as we get closer. Anticipated user changes:
Windows 7

After the change over you will no longer have to type in credentials to access samba.

Windows XP

LNSNTCAD users

After the change over you will have to authenticated to SAMBA by means of a dialog box using your CLASSE credentials.

CLASSE users

After the change over you will no longer have to type in credentials to access samba.
LNSNTCAD domain is LEGACY SUPPORT only
This only applies to
Windows XP
. Windows 7 is on the CLASSE domain.
If you are using the LNSNTCAD domain on any computer, you should plan to migrate off that domain. The easy way to check is to right click on "My Computer", select "Properties". Click on the "Computer Name" tab and look next to "Domain:".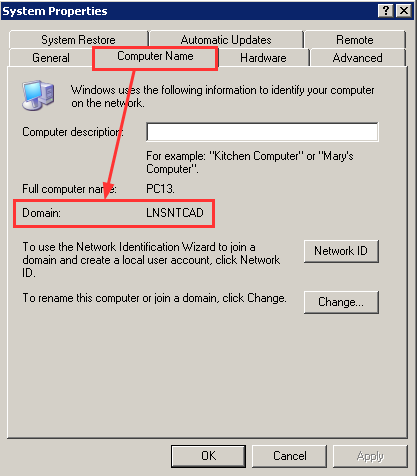 There are 3 options with XP computers on LNSNTCAD, in order of preference:
We plan to decommission the computer.
We upgrade the computer to Windows 7 (either by in place upgrade if reasonable for the hardware or by replacement)
We migrate the Windows XP computer to CLASSE. Please note that this is not a long term solution for general use computers as security patches for XP end soon, and other - somewhat drastic - security measures would be necessary such as isolating the computers on special networks or disconnecting from the network entirely.
Please submit a service request for migration. If we do not hear from you, we will plan on option 1.
Upgrading LNX201 to 64-bit SL6 - September 25, 2012
LNX201 will be down from 10am until about Noon on Tuesday, September 25, 2012, while it is being upgraded to 64-bit SL6. During this upgrade, lnx6212 can be used in lieu of lnx201.
---
General network and server maintenance will occur every Tuesday from 12 noon to 2:00 PM.
The CLASSE-IT group will always announce any expected disruptions in our
NewsLetter
and via
CLASSE-IT-NEWS-L
, but with the size and complexity of our network there is always the potential for something to go wrong. We will do our best to contain all network maintenance and planned outages to Tuesdays from 12 noon to 2:00 PM. Unless other arrangements have been made,
CLASSE-managed Windows systems may be updated and rebooted on Tuesday morning at 2:00 AM
, so please avoid critical or lengthy operations at that time. For more details, please see
SystemExpectations
.
---
Questions or problems? Submit a service request.
Other resources:
---