Cornell High Energy Synchrotron Source

Doc#: SOP-OPS-013
Procedure: Purchasing a helium crib
Prepared by: KM
Rev.: 4
Revision Date: 09/17/15
Date Effective:
09/17/15
Date Expires:
09/17/16
Approved by:*
Purpose
To purchase a 12 pack of helium bottles (a "crib") using E-shop
*Materials and Equipment Needed
Computer with internet access
E-shop log-in
Procedure
Sign in to e-shop
Click on Non-catalog form towards the top of the page (Fig. 1)
Click on supplier search under supplier info

Type Airgas in the supplier search
Click on "select" next to Airgas USA LLC in the Suppliers Found section

Under General Description, type:
He, high purity
Gr4.8 size 300 12pk
CGA580
Type He HPC23 for Catalog No.
Enter 1 for quantity
Select EA – Each for Unit of Measure
Enter 1413.74 for Estimated Price
At the top of the window, select Add and go to Cart under Available Actions and click "Go"
Next to "Business Purpose," click "add note" and typeHelium for CHESS beamlines, U55-8400
Type He Crib in the "Description" box

See Fig. 2 for the completed form

Click on the blue Assign Cart button
Click on Search for Assignee in the window that pops up
In the User Search window, enter brw5 next to User ID
Click on the name Wilcox, Beth
NOTE:
Beth usually processes the He Crib orders, but if she is not available Todd Hawkins can also do it (in the user search window, search for last name Hawkins rather than brw5)
You may enter a note in the box next to "Note to Assignee," but it is not necessary
Click the blue Assign button
Post a note to the webboard in the "Gas Supply" conference that a new crib has been ordered and include the cart number
NOTE:
You will receive several e-mails from e-shop when an order is placed. You do not need to respond or take any action. Someone needs to sign the packing slip when the new helium crib arrives – it does not necessarily need to be the person that ordered the crib.
Figures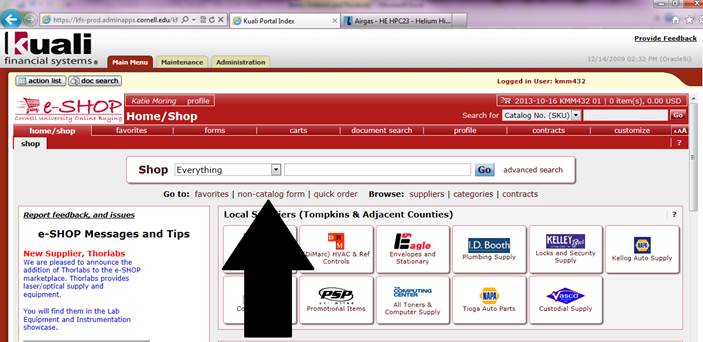 Fig. 1
– E-shop home screen – where to find non-catalog form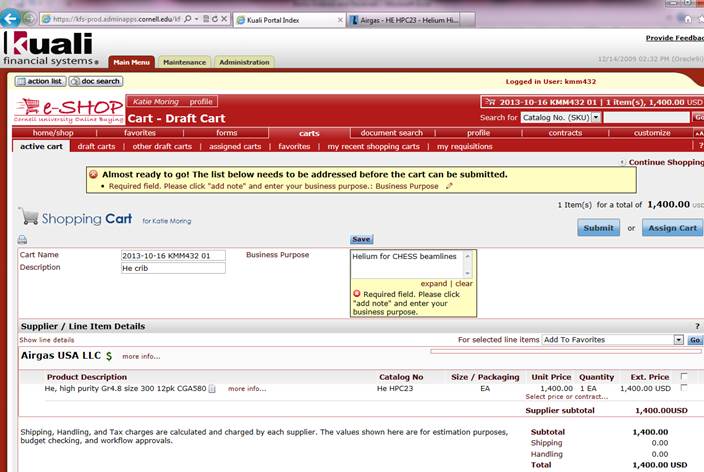 Fig 1
– Completed helium crib form
Revision History
Rev. 1 – Initial document (10/16/13)
Rev. 2 – Updated account number to charge crib to (4/11/14 KM)
Rev. 3 – Updated price of crib (12/4/14 KM)
Rev. 4 – Updated price of crib (9/17/15 KM) --
LeeShelp
- 30 Aug 2017