Start presentation
Slide 1: .
Introduction to CLASSE-IT
CLASSE-IT team and computing environment
General philosophy
User services
Slide 2: Who We Are
Our team: 10 full time staff + many who contribute at the 10-50% level.
| | | | | |
| --- | --- | --- | --- | --- |
| Devin Bougie | Assistant IT Director, Linux | | Dan Riley | Linux, networking, security |
| Bill Brangan | User support, facilities, printing | | Mike Roman | Mac, A/V |
| John Dobbins | Control systems | | Mike Ryan | Programming |
| Attilio De Falco | Software librarian, Compute Farm, Linux | | Phil Sorensen | CHESS, Linux |
| Marlin Guest | Windows, networking | | Charlie Strohman | Control systems |
| Tim O'Connell | Autodesk | | Werner Sun | IT Director |
| James Pulver | IT Security Liaison, networking, Windows | | Shijie Yang | CHESS, A/V, networking |
Slide 3: What We Do
Lab functions that we support
Examples
Facility operations (on call 24/7)

Control systems & monitoring for CESR, CHESS, ERL, CBETA
Data collection for CHESS and CesrTA
Power outage recovery

Basic research

Instrument control/readout for SRF, CMS, g-2, photocathodes, cosmology
Data analysis & simulation for CesrTA, theorists, CHESS users

R&D for accelerators and instrumentation

Engineering for CHESS-U and CBETA
Development of beam-size monitors for CESR

Multi-institute centers/collaborations

Accounts and collaboration tools for CBB, CLEO, CBETA

Business and administration

HR, accounting, purchasing, project scheduling

Seminars, workshops, communications

A/V equipment, event recording, visitor support, websites
Many different uses of computing supported with one unified environment.
Slide 4: CLASSE-IT Infrastructure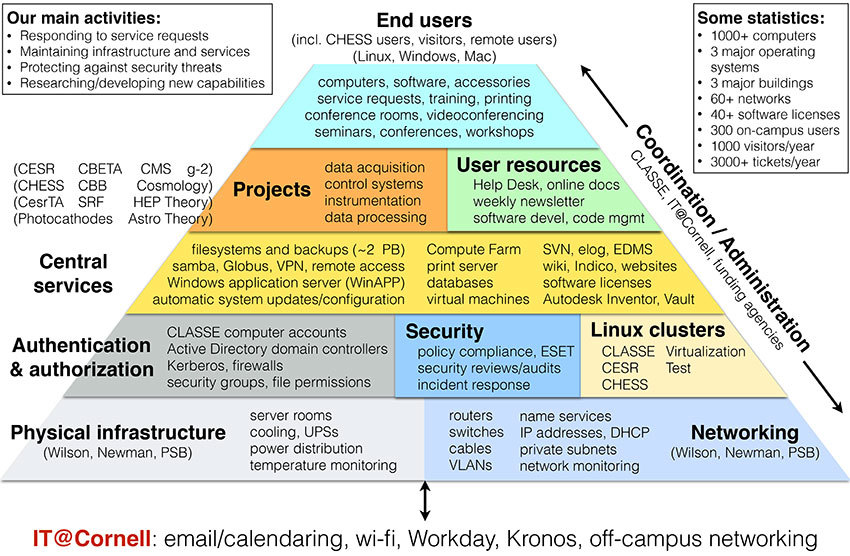 Slide 5: Our Philosophy
We have a large and complex computing environment, limited resources, security and audit concerns, Cornell and funding agency requirements.
Therefore,

All CLASSE computers/software/networks are centrally managed.

Ensures compliance with Cornell policies, makes overall support manageable.

We provide full support only for CLASSE computers and services.

Not personal computers or third-party services (e.g. email, calendar, wi-fi).

We centralize services wherever possible:

File storage, software, networked Linux systems, wiki.
Similar model to other large facilities (Fermilab, SLAC, CERN, Brookhaven).
But there is flexibility within this structure:

We know how to support a diverse and constantly changing research program.
Communication is essential -- please discuss your needs with us!
We can be your collaborators.
Slide 6: Where To Find Help
To reach CLASSE-IT:

Submitting service requests gives the best results.

We work as a team, and tickets keep everyone informed.
We get hundreds of emails/day. With a ticket, your request doesn't get lost.

Please don't report problems to individual team members.

Help us help you: give us as many details as possible.

Tell us what you need and why -- the context is key.

Let us know if your ticket is urgent. Otherwise, default max response time: 1-2 business days.

In case of emergency:

Page CLASSE-IT on the beamphone OR consult our CallList.
Also submit a service request (if possible).
Examples of emergencies: stoppage in CESR operations or CHESS data collection, paper submission deadline, broken projector for visiting speaker.

Regular business hours:

Monday - Friday: approx. 8:00 AM - 5:30 PM (short daily job meeting at 9:30 AM).
Exception: weekly staff meeting Thursdays 10:00 AM - noon.
Slide 7: Overview of User Services
| General | | Computing for research |
| --- | --- | --- |
| CLASSE-managed desktops/laptops | | Hardware development |
| Web browsing | | Experimental control systems |
| Printing | | Data acquisition |
| File storage and backups | | Data storage and archival |
| Productivity software | | Data analysis platforms, Linux utilities |
| Antivirus, endpoint security | | Specialized software licenses and code compilers |
| Remote access | | CLASSE Compute Farm |
Much more information at our homepage.
Everything is designed to work together, on Linux and Windows and Mac, using one CLASSE account per user.
Slide 8: Some More Details On...
CLASSE-Managed Systems
CLASSE Computer Accounts
Central Data Storage
Collaboration Tools
Installing Software
Remote Login
Linux and Compute Farm
Slide 9: CLASSE-Managed Systems
CLASSE computers are designed to be:

Interchangeable:

You can log into any CLASSE system. Consistent user experience across all systems.

Safe:

Compliant with Cornell policies on security updates, antivirus software, locking screensavers, etc.

Centrally connected:

Easy access to central storage (a.k.a. samba), Compute Farm, WinAPP

CLASSE computers are not personal computers and not like other computers at Cornell.

We think of them as portals to a centralized pool of computing resources.
Things to know: SystemExpectations

CLASSE-IT is responsible for all computers purchased through CLASSE.
Administrative access is restricted.
Windows/Linux: OS and software updates installed every Tuesday (early AM).
We can usually service your computer from afar, by logging in remotely.
Slide 10: CLASSE Computer Accounts
One username/password for all CLASSE computers (Linux, Windows, Mac), web pages, VPN, etc.

CLASSE username = Cornell NetID (if you have one)
CLASSE password must be different from your Cornell NetID password
More info at ClasseAuthentication.
Change or reset your password:
Exceptions:

Some CHESS systems, CHESS Allstaff, legacy operating systems, Replicon
Slide 11: Central Data Storage
Very important: Do not store files locally!

Local disks on CLASSE computers are not backed up.
Instead, use central storage (a.k.a. samba):

Enterprise-class redundant disk arrays, capacity almost 1 PetaByte (almost 1,000,000 GigaBytes).
Backed up on a regular basis. If you delete a file accidentally, ask for a restore.
Home directory (1 GB) and personal user directory (2 GB) should be used sparingly.
Most files should go in the space allocated to your project:
Can be accessed from any CLASSE system: Windows, Linux, or Mac.
On a non-CLASSE network, access samba through our Virtual Private Network (VPN).
Slide 12: Confidential Data
Cornell defines "confidential (level 1) data" as:

Social Security number
Credit card number
Driver's license number
Bank account number
Protected health information, as defined in the Health Insurance Portability and Accountability Act (HIPAA)
By CLASSE policy, confidential data is not allowed on any CLASSE computer.

If your job requires you to collect confidential data, please contact the CLASSE Executive/HR Staff Assistant.
Cornell services:

Cornell Box: good for collaboration, not for long-term storage (no backups)
Zoom for videoconferencing
Slide 14: Installing Software
If you have a software need, please submit a service request to discuss.

We try to avoid proliferation of software, because we are responsible for long-term maintenance and license compliance.
We might have a similar package already installed, or a different way of doing what you want.
Cornell also requires a security review for new software purchases.
Please review our SoftwareInstallPolicy.
Many common packages available centrally on Linux:

Drastically reduces maintenance overhead.
Matlab, Mathematica, ImageJ, Opera, ANSYS, etc.
Code development in C, C++, Fortran, Python, etc.
Easily accessible from Windows, use central storage for files

Windows and Mac software:
Some software available as self-service downloads (wrapped with Cameyo).
Slide 15: Remote Login
For remote access to a CLASSE Linux computer:

From Windows: PuTTY or Xming or X2Go or CLASSE_GRID.exe script.
Works both on and off CLASSE networks.
For large file transfers (100+ GB): Globus
Slide 16: Linux and Compute Farm
Linux is the preferred operating system at CLASSE:

Our core infrastructure servers are running Linux.
Standard for advanced scientific computing.
Centralized access to software, computing resources, and storage.
Code development: C/C++, Java, Python, Fortran, Perl, shell scripting
General purpose login node: lnx201.classe.cornell.edu

This is a shared resource. Please limit its use to brief interactive jobs.

Getting started: LinuxIntroduction
CPU-intensive jobs should use the CLASSE Compute Farm

60 nodes and growing, can run hundreds of jobs in parallel.
Supports interactive and batch jobs.
Queueing system guarantees equitable distribution of resources.
Slide 17: Getting Around (Linux)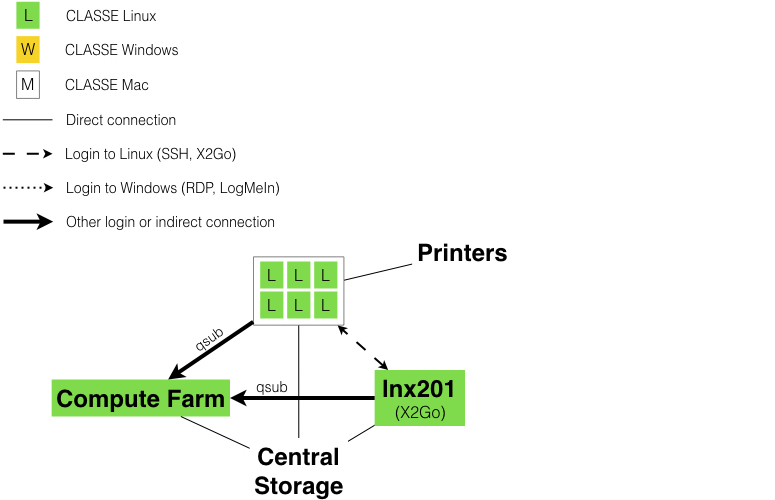 Slide 18: Getting Around (Windows)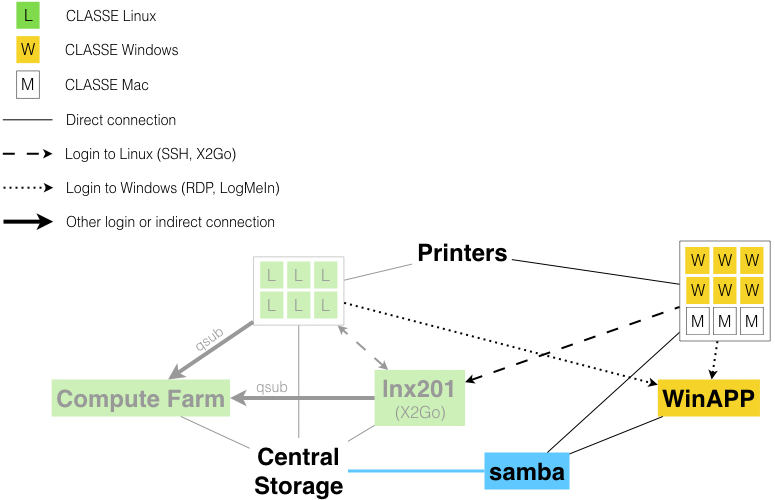 Slide 19: Getting Around (Non-CLASSE)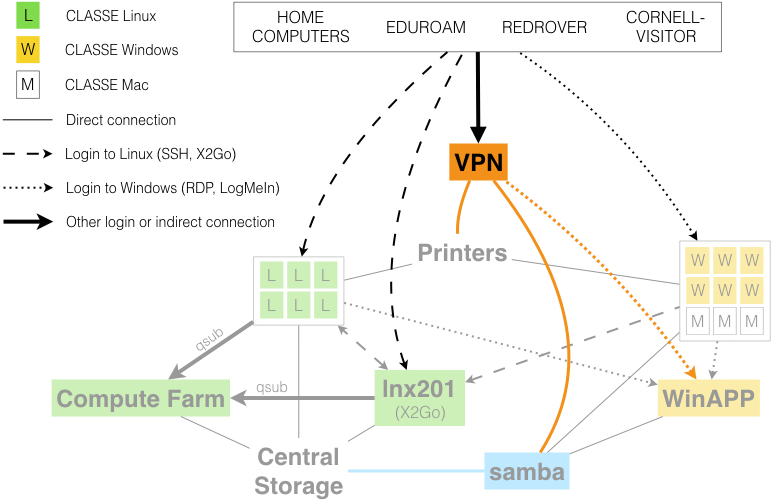 Slide 20: Summary
CLASSE-IT is very complex because of the many projects and communities it serves.

Any single user or any single project only sees the tip of the iceberg.
Our policies and practices are aimed at minimizing the degree of complexity in the system, while fulfilling the lab's research and business needs.
We see our computing environment as a giant chessboard: each piece affects every other piece.
Our overarching concern is to enable the research and business goals of CLASSE, and always in a sustainable fashion.
Please share your needs and feedback with us!