Autodesk 2021 from AppsAnywhere
Autodesk 2021 products will be available from
AppsAnywhere
. Please refer to the general AppsAnywhere documentation if you are not familiar with it.
0. Remove 2020 products first!
Before using 2021 proudcts, you
should
remove all 2020 titles from Cloud Paging Player:
Launch Cloud Paging Player from the system tray, and
Highlight a 2020 product.
Click Stop, then click Remove ("Trash Can" icon).
Repeat for each 2020 product till all are removed.
1. Launch Autodesk Master License Package
This package is required for all licensing of Autodesk products. It may be updated from time to time due to serial number changes or patches from Autodesk.
BE SURE TO WAIT UNTIL STATUS READS "READY" IN THE CLOUDPAGING PLAYER BEFORE PROCEEDING.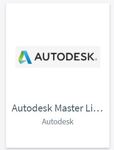 2. Launch desired CAD products.
Launch each product one at a time, launching Vault Pro last (see 3. below).
Wait for them to complete launching.
The first time an Autodesk product is launched on a given computer, you will be asked to "Activate" the license. Click on the Activate button when prompted.


Once Activated you will see this screen.

If any user has already activated the product on the computer, you will not be asked to Activate again.
3. Launch Vault Professional last
Once you launch Vault Professional, it will add the Vault Plugin to any titles you have launched.
If you launch any titles afterwards, you will need to devirtualize and revirtualize Vault Pro to add the plugin to those products.
You will need to restart any Autodesk products to pick up the Vault Plugin after launching Vault Professional.
Please note, that in some cases Vault Basic has installed as well. Please be sure to launch Vault Professional, or you will get errors when attempting to open a file from Vault.
Connecting to Vault
Make sure to load the Vault.ipj as the active project file in Inventor.
Set the Vault Server to PC49.classe.cornell.edu. Failing to use the full name may cause lockups when on VPN from home or Red Rover.