Devirtualizing and Revirtualizing Autodesk 2023 Products
If you experience problems starting Autodesk products, the first thing to try is to get a fresh cache from
AppsAnywhere
.
1. Remove Existing Applications
First, you must remove the existing applications from Cloud Paging Player.
Expand the icons in the lower right hand corner of your screen by clicking the small up arrow.
Right click on the Cloud Paging Player icon (shown below), and select "Open Cloudpaging Player".

After the Cloudpaging Player is open

select each application and select "Stop".
When the status of all applications is "Ready", select them again and select "Remove".

The Cloudpaging Player window should now be empty.

You can also Stop and Remove one title at a time instead of stopping all first. Just click Stop, then Remove for each application.

This should be followed by a reboot of the PC.
2. Refresh Applications
After a reboot, you will need to go to
https://appsanywhere.classe.cornell.edu/login
and login using your CLASSE credentials.
After clearing Autodesk from Cloud Paging Player, and rebooting, launch Autodesk Master License Package

Now launch other CAD products you need such as AutoCAD, Inventor, and Vault Pro. Vault Pro must be launched LAST. This explains the order for getting the traditional Autodesk software loadout of AutoCAD, Inventor and Vault Pro.
Launch Inventor before launching AutoCAD or you will encounter an error.

When Launching Inventor v2023.2.1 you may encounder the following error (Likely if you've already launched AutoCAD):

If so, exit out of Apps Anywhere, Reboot your computer and resume. Do NOT stop any programs that you've previously launched.
BE SURE TO WAIT UNTIL STATUS READS "READY" IN THE CLOUDPAGING PLAYER BEFORE PROCEEDING.

Let it fully virtualize into Cloud Paging Player and launch on your screen

BE SURE TO WAIT UNTIL STATUS READS "READY" IN THE CLOUDPAGING PLAYER BEFORE PROCEEDING.

Leave it running, but minimize window.
Repeat the process for AutoCAD, letting it fully cache and launch the application on your screen, and minimizing the window.

Notice neither of these applications have the Vault plugin in the ribbon or menu.

Now with Inventor and AutoCAD already running, launch Vault Pro.

Close and restart ACAD and Inventor to pick up the Vault plugin. Since those titles are already cached locally, it takes much less time and seems to reduce errors.

After Vault GUI is running, maximize the first installation of ACAD/Inv and exit the programs

be sure you're exiting the ones without Vault plugins.

You now have clean applications.
Launching Applications
You can launch the applications individually from Appsanywhere, from your Windows Start Menu, or directly from Cloud Paging Player.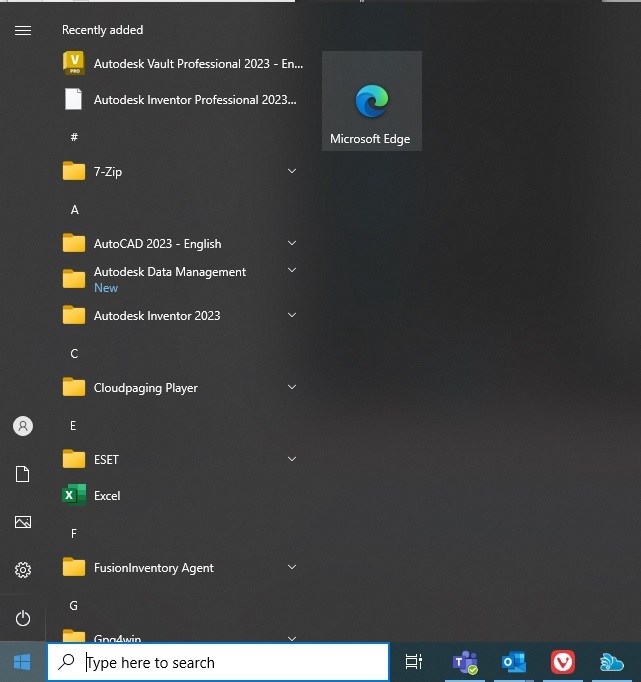 If you encounter any problems with this procedure, please contact Scott Hartman at swh77@cornell.edu or Tim O'Connell at tio1@cornell.edu. You can also open a CLASSE IT Service ticket at service-classe@cornell.edu.
Thank you.