Fire Safety
Fire Alarm Procedures
General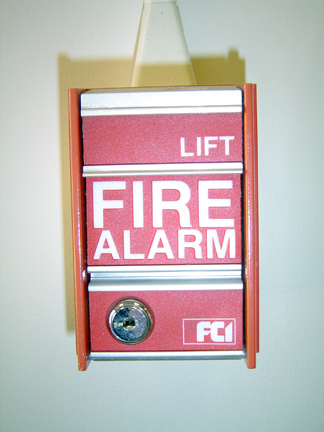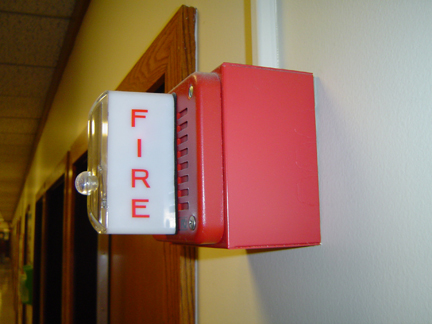 Report any fire immediately by pulling the nearest alarm; do not assume someone else will do so. When a fire alarm is activated a building-wide alarm sounds automatically; there will be an ear-piercing audio alarm and flashing light at the location of the fire alarm stations. If the alarm sounds, you must leave the building through the
nearest
exit, closing room doors and windows as you leave. Equipment should be left in a stable, preferably powered-down state. Personal protective equipment should be removed and left at the worksite. You should also take any nearby personal effects like coats and keys with you because the building could be closed for an extended period of time. Never use an elevator when a fire alarm is sounding; take the stairs instead. No matter how important your project, failing to leave the building during a fire alarm is dangerous for both you and rescue personnel who must enter the building to locate you. Routes to exits are clearly marked with overhead "Exit" signs and there is an Emergency Evacuation Map on the back of many office doors in Wilson and Newman Labs.
Familiarize yourself with your exit route now
, before there is an emergency. Please be aware that, in accordance with New York State law,
there is no smoking permitted inside Cornell buildings, or within 25 feet of any entrance
to a Cornell University building.
(Full text of Cornell smoking policy)
Common fire inspection violations
At least once annually all Cornell buildings are inspected for fire safety by the State of New York. Violations trigger a required second inspection to ensure that the problems have been mitigated. At CLASSE we try to avoid such problems from the start. The most common violations tend to be
Fire doors propped open (operationally, a "fire door" is any door with a "fire door" label on the narrow vertical hinge-side edge)

In general, please try to get in the habit of closing doors to spaces you are leaving for more than a few minutes, especially at the end of a day

Use of extension cords for permanent installations
Plugging a power strip into another power strip
Failure to leave 36" clearance in front of electrical panels such as breaker boxes
Failure to leave 18" clearance for any sprinkler head
Failure to leave 36" clear passageways for exit from any space
Poor housekeeping, such as cords posing trip hazards
Flammable materials stored on a shelf near the ceiling
See the
Fire Preparedness, Prevention, & Precautions
section below for more tips.
Wilson Laboratory
In Wilson, the fire horn is intermittent: it will sound VERY LOUDLY, but pause for several seconds before sounding again. You will probably hear announcements to leave the building during these pauses. Once you hear the alarm, you must exit the building until an explicit announcement that it is safe to return. Due to the complex nature of the infrastructure at Wilson Lab, certain designated staff members are assigned to remain in the building to assist
EH&S
in the investigation of any fire alarm. The designated staff members are the On-Duty
CESR
Operator, Operations Managers and Fire Marshal.
Fire Zones at Wilson Lab*
Wilson Laboratory is divided into fire zones which include all CLEO and CHESS areas, the tunnel, and the West Modular Unit (aka CHESS trailer). The alarms go to the Ithaca Fire Department. There are annunciators in the CESR control room and at Barton Hall for the Cornell Police. The East Modular Unit (Computer Group & Electronics Shop) and Center Modular Unit (Stockroom & eXploration station), and Newman Lab each have their own fire alarm systems which are linked to Cornell but not to the Wilson system.
| Fire Alarm Zone | Location |
| --- | --- |
| Zone 1 | L1 (Tunnel) |
| Zone 2 | L2 (Tunnel) |
| Zone 3 | L3 (Tunnel) |
| Zone 4 | L4 (Tunnel) |
| Zone 5 | L5 (Tunnel) |
| Zone 6 | Cross Tunnel |
| Zone 7 | Synchrotron Hall (L0) & LS1 |
| Zone 8 | 1st Floor - Room 101 |
| Zone 9 | 1st Floor - CHESS, Electronic Lab, Stockroom |
| Zone 10 | 2nd Floor - Offices, Labs and Rm. 101 Sprinklers |
| Zone 11 | 6th Floor |
| Zone 12 | 3rd Floor - Offices and Labs |
| Zone 13 | LS3 and LS2 |
| Zone 14 | 4th Floor |
| Zone 15 | 5th Floor |
| Zone 16 | Gas Alarm (manual alarm in CHESS & Control Room) |
| Zone 17 | L0E (Machine Shop and Tech. Area) |
| Zone 18 | New Addition - All floors |
Tunnel
The unique hazards of the
CESR
tunnel require that it have its own fire safety procedures and precautions. The tunnel has both regular and beam phones.
Crash cords
and
crash buttons
, if activated, shut down most of the major accelerator systems in the tunnel which use 440 volts. The vacuum system ion pump power supplies, however, are not connected to the crash system, and instead must be shut off manually by using the on/off buttons or unplugging them. Since the crash system shuts down almost all accelerator systems, it is to be activated only in the event of an emergency involving a fire or an electrical injury. If a fire alarm sounds, leave the tunnel immediately. Exit through either the north exit, which is located by Tower Road, or through the south
L0E
exit through
L0
. Never take the cross tunnel, because it could become filled with smoke during a fire.
Fire Preparedness, Prevention, & Precautions
Be familiar with primary and secondary escape routes: do not use the elevators; use stairways instead
Keep hallways, stairwells, aisles, and exit doors completely clear at all times; do not block exits!
Know where fire extinguishers are located and how to use them
Don't depend on someone else to pull the fire alarm
Have a plan for quickly powering down equipment you are using so as to leave it in a safe and stable state
Plan to have important personal effects nearby or on your person so you can evacuate quickly, without a need to return if the building is closed for an extended period of time
Plan to remove any potentially contaminated personal protective equipment (e.g. gloves, lab coat) prior to departing your workspace
Near a fire, stay low to avoid inhaling smoke
Feel every door for heat before opening it
Close open doors as you evacuate the building to prevent the fire from spreading
If you are on fire, do not run:

STOP, DROP, & ROLL

: drop to the floor and smother the flames by rolling
If someone else is on fire, wrap him or her in fire blanket to smother the flames
Do not smoke inside any campus building, nor within 25 feet of any entrance
Know the flammability of the materials you are using and take appropriate precautions
Do not use frayed electrical cords and do not overload circuits
Do not plug an extension cord or power strip into another extension cord or power strip
Exit signs must be lit and open to view
Extension cords are only used for temporary needs; situations with insufficient outlets should be remedied by installing additional hardwired outlets
Extension cords must not be strung through doorways, walls, over ceilings, etc.
Extension cords, phone cords, cabling, and hoses must not be positioned so as to be tripping hazards
Electric panels or junction boxes must all have proper covers
Electrical receptacles and wiring must all be in good condition and not exposed
Ceiling tiles must be in place to maintain the fire-stopping integrity of the ceiling
Holes around wall or floor penetrations must be sealed with proper fire stopping material
NOTHING should be hung from sprinkler piping
Storage must be held back at least 18 inches from sprinkler heads
Storage of chemicals, compressed gases, combustible or flammable materials must be done according to manufacturer's recommendations and good safety practice
Any gas cylinder must be anchored to a wall to prevent it from tipping over
Lab and storage areas should be neat and uncluttered; access for inspection should be easy
Portable heaters are discouraged, but if present need space; separate adequately from flammables
Use the correct wattage bulb in lamps and light fixtures
Fire Extinguishers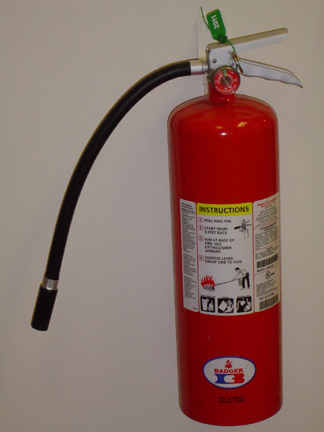 The use of a fire extinguisher can keep a small fire from spreading, assist in fighting a fire until help from the fire department arrives, and/or help provide an escape route. Fire extinguishers at
CLASSE
are generally located at door entrances and near stairwells. Do not attempt to use a fire extinguisher if you have not had training on
fire extinguisher basics
because you could injure yourself, others, or make the fire worse by improper use. Learn
how to use them
before
a fire starts. Never put yourself in danger to fight a fire.
End of Fire Safety